November 25-26 2017
The Toronto Sound Festival is Canada's premiere 2 day festival of synthesized sound!  Our focus is on education, performance, and of course the gear!  Performances include a focused concert in the evening as well as daytime performances by attendees.  Seminars range from general interest to recording techniques, synthesis techniques, effects processing and more!  Register here or click the Register button above.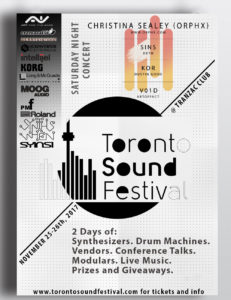 November 25th and 26th 2017 we have again booked the very cool TRANZAC Club for the 2017 round of the Toronto Sound Festival. If you missed it last year you missed great seminars, amazing performances, great demos and the chance to try out some amazing stuff.  Please stay tuned here, and on FaceBook for details as they come available!  We are looking forward to seeing everyone at the TRANZAC Club again soon!
Exhibitors and sponsors are welcome!  Please see the Become A Sponsor page for more information or send an inquiry, we would love to hear from you!