2017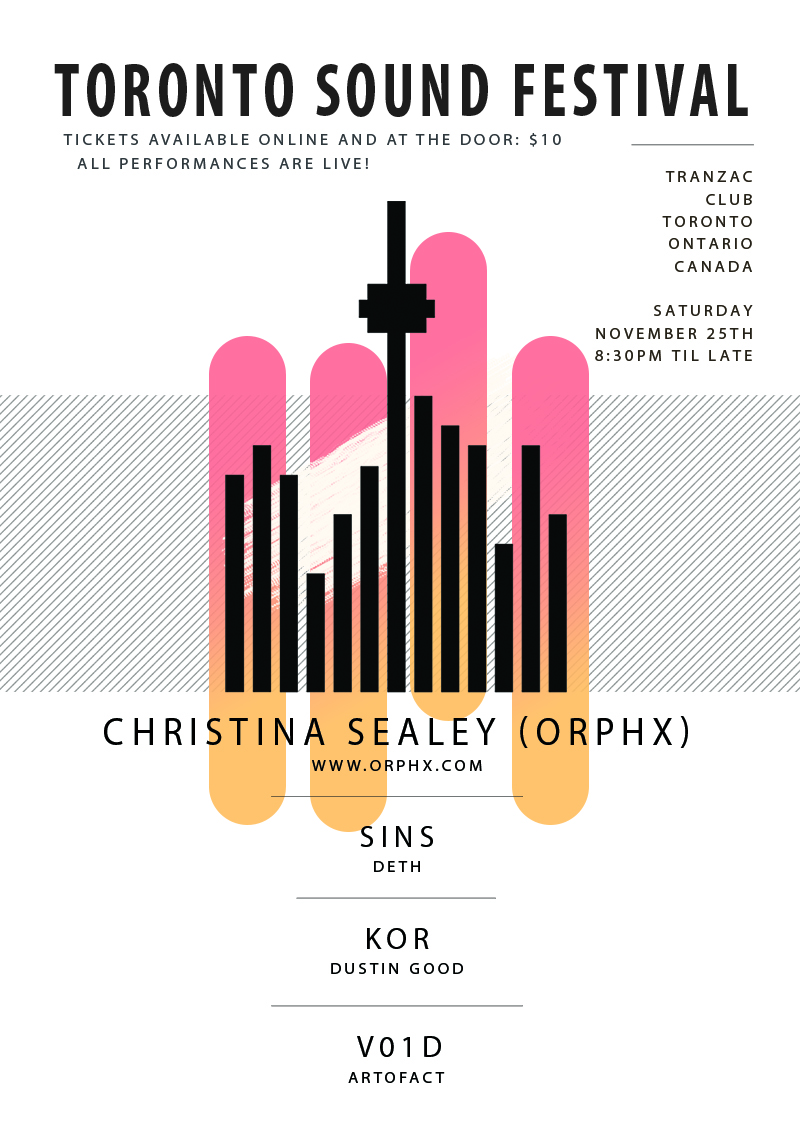 2016
Sunil Solanki's electronic music project. Originally from Leicester, UK, he now resides in Toronto, Canada.
Growing up listening to goth, industrial, classical and any and all synth-based music he could get his hands on, his major influences include: Depeche Mode, Aphex Twin, Kraftwerk, NIN, Front242, VNV Nation & Hallucinogen. Acid meets EBM with social commentary and emotionally evocative samples; the music is a journey through his past and into the future.
Early in 2016 he released 2 EP's which were the culmination of years of his original tracks working "In The Box". The NightFlight EP takes us on an electronic journey through time and space heavily influenced by 80's synthpop and 90's industrial, acid and techno. Whilst the Re-Mix EP is much heavier and aggressive and features mixes by artists such as Assemblage23, RythmDial, COTTM, Diverje and others…
Over the last 2 years he has evolved into a fully Hardware and Modular setup and now all his music is Hardware-only, performed 100% live, 1-take with no overdubs and minimal post processing.
Equipment includes:
Synths: Roland SH-101, Oberheim SEM Pro, Roland TB-3, Studio Electronics Boomstar 5089, Korg WaveStation SR, Yamaha SY22
Drum-machines: Roland/AIRA TR-8, Elektron Analog RYTM, Sonic Potions LXR, Korg Volca Beats
Effects: Eventide Space, Proco Rat distortion, TC Helicon VoicePrism+ Vocoder, Mooer Lo-Fi Bitcrusher, Boss DD-7 Delay and Looper
Joe has been experimenting with electronic music for over 20 years, starting with a sampler while in high school and even learning the ropes of modular synthesis on the Buchla 200 during his years at OCAD.  Joe has been involved in the electro-industrial scene playing keyboards for Ayria and offering remixes for acts like Angelspit and Interlace, all while working on his own solo project v01d (including a recent album release!) Having recently delved into the world of Eurorack modular synthesis, Joe's performance will be an experimental minimal techno combining his personal Eurorack setup with Ableton Live sequencing.
Founded in 1971, The Canadian Electronic Ensemble is the oldest continuous live-electronic group in the world.
Today we take synthesizers for granted. But when the CEE was founded, electronic music could only be heard on tape. The CEE developed a new medium: live electronic music. The synthesizers of the time were enormous and not meant for live performance. Often, the members of the CEE had to design and build their own instruments.
Forty-five years later, the CEE is still going strong. Now using mostly laptop computers the CEE often pushes new technology to the limit. With various software based synthesizers the CEE is able to deploy all of today's and yesterday's most advanced synthesis techniques – often concurrently. Standard instruments are also used, but keeping with the ensembles penchant for anything electronic they are usually not heard without some kind of processing.
The CEE first toured Canada in 1975. Their first European tour was in 1979. In the years since, the group has toured extensively throughout North America and Europe and has appeared with the Toronto Symphony, the Vancouver Symphony, the Ottawa Symphony Orchestra and the Orchestre Métropolitain de Montréal.
Today, the CEE continues its tradition of performing live improvised electronic music and performs several times a year mostly around the Toronto area.
For this performance, the CEE is happy to welcome guest artist David Sutherland! In keeping with The Toronto Sound Festival's desire for hardware based performance we will be improvising using the following instruments: Synthi "A", Synthi "AKS", Phenol, Yamaha CS-40, Elektron Analog Keys, Eurorack Modular, and several effects pedals.
Steve is a writer and musician currently living in Toronto. He took up classical piano at the age of 8 and acquired his first analogue synthesizer when he was 14. At he 17 moved to Toronto where he studied composition under James Tenney and electronic music under Phil Werren at York University. He currently performs and records on a 520 hp Eurorack modular system augmented with an Elektron Octatrack and Moog Sub 37. You can listen to his music at stevecastellano.bandcamp.com.
As a former film sound editor and performer of various traditional instruments, Heidi Chan has long been interested in how recorded and remembered sounds can be recontextualized and perceived in novel ways through sampling technology. Her recent immersion into modular systems has offered her new tools for hearing, shaping, fragmenting, and redefining her relationship with various sonic artifacts.
A member of the Canadian Electronic Ensemble for over 20 years, Paul is a musician by night and a network security guru by day.  As a solo performer he prefers a more approachable style combining Ambient, Berlin School, and Industrial techniques.  You can find more about Paul and purchase music, sample packs, and sample based instruments at his web site and you can listen to some rough cuts and ideas in progress on SoundCloud.
In 1973 David Sutherland touched his first modular synthesiser. It was a Synthi AKS. In 1960, he saw his first oscilloscope in a Northern Electric Laboratory. In 1967, his mind was expanded by the multi-media sights and sounds of Expo 67. In 1971, he sat right behind Karlheinz Stockhausen who was mixing a quadraphonic performance of live electronic music.  David was a member of Metamusic, an ensemble that pioneered live improvised electronic music in Montreal.  David completed the graduate course in electronic music at McGill University which provided the opportunity to work with original devices designed by Hugh LeCain plus Moog and Arp synthesisers.  He also taught the undergraduate course for non-composers for a year. He worked as a recording engineer and composer in Montreal and Toronto in the mid to late 1970's. In the 1980 he began a 30 year career in working with computers, retiring from the University of Toronto in 2012.  Current interests include sound synthesis/design, music and multi-media as a vehicle of transcendence, the experimental pop song tradition, education and meditation.  David's aesthetic preferences range from minimalism to punk without very much in between.
Jacob is a synthesizer enthusiast and electronic musician. His interest in synthesizers has led him to learn electronics and create his own synths and modules. As the the Synth & DJ Product Specialist at Roland Canada, Jacob travels across the country to share his passion for synthesizers and electronic music.