From 1928 until his death in 1980, Maurice Martenot designed and continually refined one of the most expressive electronic musical instruments. Explore the history of this rare instrument and the efforts to preserve and extend its legacy. Live demonstrations of the Ondéa (a modern re-creation) and the Therevox (an ondes / synthesizer hybrid) will be given and attendees will also have the opportunity to play both of these instruments after the talk.
November 23, 2019 12:00 PM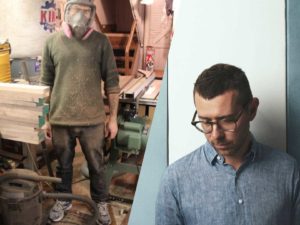 Mike Beauchamp & Joshua Van Tassel
Mike Beauchamp: After hopping a rusted barbed wire fence, Mike broke into the abandoned remains of Nikola Tesla's famous Wardencliffe laboratory on Staten Island in 2006. He did not find any laser weapons, Death Rays or earthquake machines. Mike and his company Therevox build analog synthesizers inspired by the Ondes Martenot.
Joshua Van Tassel is a producer, composer and sonic landscaper. His Dream Date Studios in Toronto has worked on albums for Sarah Slean, David Myles, KIRTY, Rosie And the Riverters, Christine Bougie, Megan Bonnell, and more. His solo career has a built a reputation as a producer and composer of electro-acoustic music that is both highly sophisticated and easily digestible.