Sonja (Sofie Mikhaylova) will talk about how she got started when she created Biblioteka Record, things she learned, problems she faced, resources she found helpful when starting, and focusing on all types of music vs. focusing on a specific genre and creating what is essentially a microlabel. She will also answer any questions about the process and future plans for the project.
Topics and advice will cover:
finances
working with other artists
how to find and keep artists
control
physical vs. digital media
various physical formats
marketing aka how to get people to find out about your music
getting your music online
November 24, 2019 11:00 AM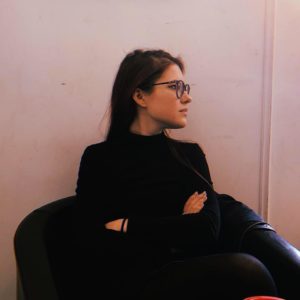 Sofie Mikhaylova, also known as Sonja, is a DJ, electronic musician, music, and creator of independent record label Biblioteka Records, which focuses on releasing experimental electronic music. She is a member of the Toronto Music Industry Advisory Committee, The Junos Awards Electronic Album of the Year Committee, and a 2019 Polaris Prize juror. As a DJ, she enjoys playing deep and tech house and techno. As a musician, she relies on analogue hardware for improvised and fleeting modular synthesizer sets that play with deconstructed club techno. She has played at numerous events and venues across Ontario.