If you use vocals in your music, it is most likely the first thing a listener will connect with. Why not give your vocals just as much creative attention as your synth and drum sounds?  During this talk, 
Laura
 Dickens will approach vocal processing from a creative sound design perspective – using the voice as a sound source that can be manipulated live and in the studio.
November 23, 2019 12:00 PM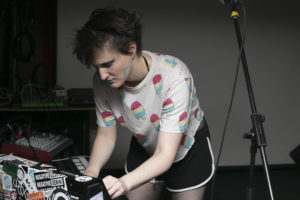 Laura Dickens is an electronic producer and performer living in Toronto. She performs under LEUCROCUTA and has played on bills with iconic electronic performers like Morton Subotnick, and ADULT. Her music has been described as a "mutating forest" (Intersection Festival) and "a fascinating artifact" (Silent Shout). She also writes music for film, dance, and theatre.