Get full access to the entire festival - talks, community events, and concert.
Note: DIY Workshop sold separately
Get access to the concert on Saturday, November 23, 2019. Check our website to find out when doors are open.
I have a promo code. How do I apply it?
Once you click "buy my tickets," a secure window will pop up to let you buy your tickets. At the top of that section you'll see an "enter promo code" link. Click it, simply add your promo code, and you will see the discount applied!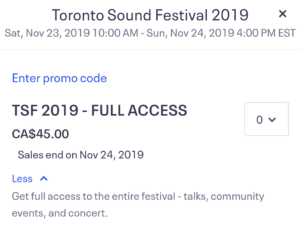 Make sure you never miss another fest!
Sign up for our mailing list and you'll be the first to know when tickets go on sale and get special offers including advanced pricing.